A news published by the Bangkok Post on 29th August, 2011 reads the new Thai ICT Minister has vowed to make good on the government's promise to provide free public WiFi hotspot services within three months. However, it is until now (December 27th, towards the end of the 4th month of announcement) only they have again words on introducing free public WiFi with initial coverage on the Greater Bangkok onward December 28th with as much as 20 thousand hotspot locations. They are working to double the number of hotspots within October next year.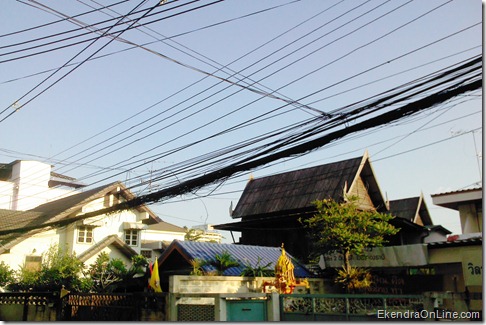 Free Wi-Fi in Bangkok was a dream to all tourists and local people, there are many hotspots (Wireless Internet WiFi hotspots) in Bangkok laid by many teleco and ISP companies but they are rarely (never ?) free. Even in the Suvarnabhumi Int'l Airport (SIA), they have proclaimed free public WiFi, but it is cumbersome to use them (one gets access of 15 minutes before the session expires.) The internet service in Thailand has been good recently both in terms of availability and data connection rate, however the pricing still matters a lot. Bangkok now has a well established connection of 3G+ data network even tho' there were many past illegitimate events to deploy 3G telephony in the Kingdom. Thailand must be on the verge of deploying 4G LTE (Long-Term Evolution) cellular network as a bitter lesson learnt from unsuccessful 3G telephony deployment previous year.
The initiative led by the Information and Communication Technology Ministry (MICT) is really a good perspective for national building, it is one of the modeled ICT4D example. The free WiFi project has been a deal among MICT, True Corporation, CAT Telecom and Telephone Organization of Thailand (TOT) after a nationwide 3G network coverage. People now should be able to use the free internet access of 2 Mbps bandwidth in many government places and schools.
The Bangkok Post again writes on December 27th unveiling the free public Wi-Fi hotspots in Bangkok: the Wi-Fi deployment is part of the nation's Smart Thailand master plan, which will start in 2012 and span across four years.
The ICT for Development (ICT4D) competency of Thailand has recently dropped, as stated in TBP, which is also one major reason to initiate growth by the MICT. People often coffee guff that MICT is often interested on blocking websites than offering on internet expansion. Let's see how this ICT4D goes into action assuming these free WiFi hotspots really do well.