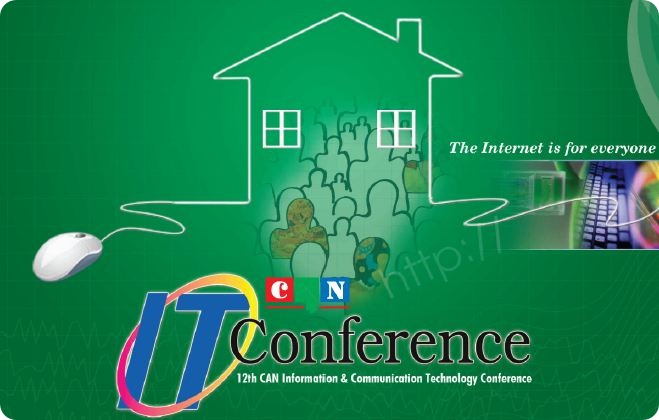 "The Internet is for everyone" is the motto of 12th CAN Information and Communication Technology (ICT) Conference going to be organize in Kathmandu this January 29-30 on the periphery of the 18th CAN Infotech Mela – the biggest IT exhibition in the country. This conference is jointly organized by Computer Association of Nepal (CAN) and Internet Society, Nepal Chapter; and supported by various government agencies. While Nepal is struggling to fully utilize the technological advancements in spite of many political hurdles, conferences as such would greatly impact ICT4D of the country.
To achieve the goal of making the internet accessible to all, Nepal requires a multi-stakeholder commitment. Realizing this, Internet Society Nepal Chapter and Computer Association of Nepal (CAN) is organizing a multi-stakeholder discussion on various aspect of the internet in the ICT Conference 2012 with the theme 'the internet is for everyone'.
This ICT Conference in Kathmandu is organized mainly to find the common playground among various Governmental and Non-Governmental stakeholders for brainstorming on the dynamics of Internet in Nepalese context. The focal point would be the accessibility of the Internet in rural and remote areas specially, and irrespective of class, race, gender, ability and socio-economic aspect. As of now what we see in Nepal is, the reach of Internet has never been biased on these aspects which is a impromptu basement for the Internet to grow.
Nepal has already been equipped with the Broadband policies plus the aid of International Telecommunication Union (ITU) in distribution and development of broadband internet in rural and remote Nepal is a big sign to get things done over ICT4D. Besides this, there is a good track of Nepalese technology sector in the infrastructure of internet technology from implementation of IPv6 to Fiber to Home (F2H) broadband, to world standard software applications and services.
The major objective of the conference is to hold multi stakeholder discussion towards making the internet accessible to everyone in Nepal. The conference shall be conducted in an international accepted standard with two models of discussions vis-à-vis paper presentations in five different tracks and panel discussions.
The major agenda of this ICT Conference are based on five fundamentals of ICT theme, namely;
Infrastructure of Internet Technology,

Software application and services,

Security and data aspects of the Internet arena,

eContent model and eGovernance framework, and

Internet Laws and policies in context to developing countries like ours
Let's expect that the outcome of this conference be seen in rapid and contextual deployment of eGovernance framework for Nepal, let the citizen enjoy the benefit of Internet technology when they are bound to use it for social media only.
Summary of 12th CAN ICT Conference
Organized by: CAN Nepal, Internet Society Nepal Chapter
Theme: " The Internet is for Everyone"
Time: 9am – 5pm
Dated: January 29-30, 2012 (Magh 15-16, 2068)
Venue: Hotel De l' Annapurna, Durbargmarga, Kathmandu
Website: http://www.itconference.org.np/
Download the brochure of this ICT Conference from here.