A couple of days back, I could not open my Google Apps email URL. This had never happened to me with Google services before. Then I quickly changed my subdomain to the main domain, and surprised to see my personal website cum blog has been blocked by MICT (Thai Ministry of Information and Communication Technology). However, the next morning I could successfully login back again. This was the case with HTTP URL protocol only, because I could still access mails via email clients in iPhone and Microsoft Outlook 2010.
As of now, Internet Censorship in Thailand is limited to website access only. By 2012, Thailand will most probably follow the current practices of China and India and require that the major international companies offering search and communications place servers for Thai users inside of Thailand ~ quoted.
Twitter censorship in Thailand
As this censorship thoughts were dwelling in me, I was again shocked that all links in Twitter status were blocked, and eventually redirected to http://w3.mict.go.th/. MICT has been blocking all URLs wrapped by Twitter's URL shortening service t.co. Try the link on the following embedded Tweet (if you are in Thailand now):
Leave #bloggers and #blogs on their own status, do not mould their brain and limit the creativity bit.ly/IW7r4V #nepal #ethics
— Ekendra (@Ekendra) May 10, 2012
What is even more interesting is Thailand was the first country to approve Twitter's new policy and mechanism to control and monitor country-wise twits back to few months; while Thailand/Bangkok is still not in world's trending location in Twitter.
Quick way to enforce

internet

censorship
When most of the online population is active in Social Media, it is easy for any country/state/organization/enterprise to develop quick policy to control internet and enforce censorship. Just an instance, they can block information sharing on Twitter and Facebook using their URL wrapping or URL shortening services (t.co, on.fb.me, and even bit.ly); still while happily Facebooking and twitting, most of the users will remain unnoticed about that. So, far I foresee this as a quick and effective way to enforce internet censorship (but not praising that doing this keeps users aloof off the information age.)
Overview of Internet Censorship in Thailand
Going thru some scholarly articles and journals, I found that Thailand is one of the most engaged countries in the world to practice Internet filtering. Thailand is also listed as "Not Free" by Freedom on the Net 2011 report by Freedom house which works on censorship and freedom on the Internet (read report here). Plus Thailand is listed in Internet Enemies Under Surveillance by Reporters Without Borders as of March 2011 (read report here).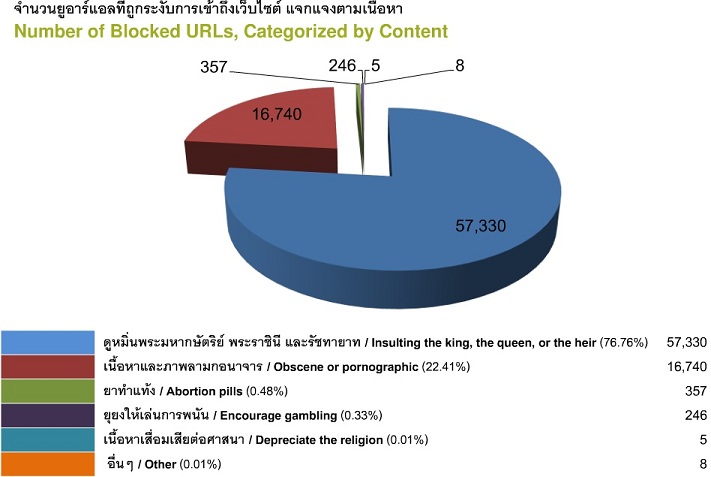 The Internet Censorship in Thailand is handled by MICT, Royal Thai Police and the Communications Authority of Thailand while  filtering is based mainly on URLs in areas like social media and politics. The blocking of websites contain adult and pornographic websites at large, while the focus of Internet censorship has grown to lèse majesté, national security and political issues now (as quoted in Wikipedia here.)
It is very surprising to learn how and why thousands of websites are blocked for reasons or no reasons in Thailand (one can learn about this in detail if needed.) Whatever may the status of blocking be, citizens should circumpass the ethics of being netizens.