Cost of Living Index in Nepal – Statistics & Graphs of Nepalese Citizen's Economic Power
With the increasing number of expats in the country and higher than that the number of people going out of the country mostly for the job and the education, makes it difficult to evaluate and understand the Cost of Living Index (CoLI) in Nepal. With some third party figures, we provide some of the comparative indicators of Cost of Living Indices in Nepal.

Skip to the summary of this article if you don't have time to read it now.
Is Living in Nepal Expensive?
The first group of people here are the expats – who find almost everything cheaper in the Nepalese market, while the other group of people – returnee Nepalese – find almost everything expensive when compared to their residence abroad.
With this dubious nature of cost of living experiences, there is still statistical computation to reveal some approximation in how expensive it is to live in Nepal, which Nepalese city is expensive or cheaper and related micro-economic indicators. Two indexing services – Numbeo and Expatistan – give some ideas on the economical and social status of Nepalese and expats, obviously, for the cost comparison inside and outside countries.
Current Economic Status of Nepal
Nepal Country Data (source CIA, 2013)
GDP Per Capita ($) :
1,300.00
GDP Growth Rate:
4.60%
Population Growth Rate:
1.81%
GDP – real growth rate:
4.6%
Price Indices (source Numbeo, 2014)
Consumer Price Index (Excl.Rent):
31.57
Rent Index:
3.07
Groceries Index:
31.45
Restaurants Index:
19.51
The above two different tables give a quick insight of Nepalese economy on growth and price indices of the citizens – which two whoever are incomparable parameters of Cost of Living Index (separately) – but good enough to learn the trend of Nepalese economy and purchasing power of Nepalese consumers. The live feed Google chart below, stats from the World Bank, on the other side gives the GDP per capita of Nepal since half a century ago.
The Nepalese economy is on a sluggish mode – is the purchasing power on sluggish mode as well? The question however is opened and self-answered with little more of indices below.
Cost of Living Index in Nepal
The cost of living index at its solitude or with the combination of the indices with crime, food price, gas price, health care, hotel prices, pollution index, property prices, quality of life, taxi or transportation fare, traffic status and others is studied for a complete CLI.
Calculation of the indices are merely the best guess of relative average expenses in the specific city. Most of the time it is crow sourced (user-submitted) data, and intelligent guesstimate all other times.
Numbeo stat says that monthly recommended minimum amount of money for food per person in Nepal is Rs 10,752 – this makes that one has to pay atleast NPR 347 daily for the food for survival. However, the rent and restaurants index for Nepal is relatively lower than other cities in the world. The consumer price index is the highest in comparison of these three.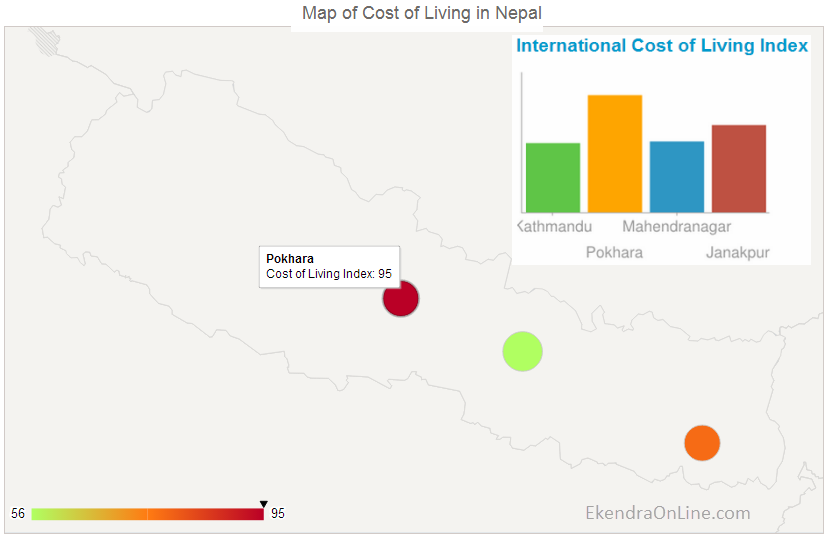 The CPI accounts for the market price index followed by the transportation index for the distribution of the cost of living expenses in Nepal – meant Nepalese spend more on markets followed by transportation, then on restaurants.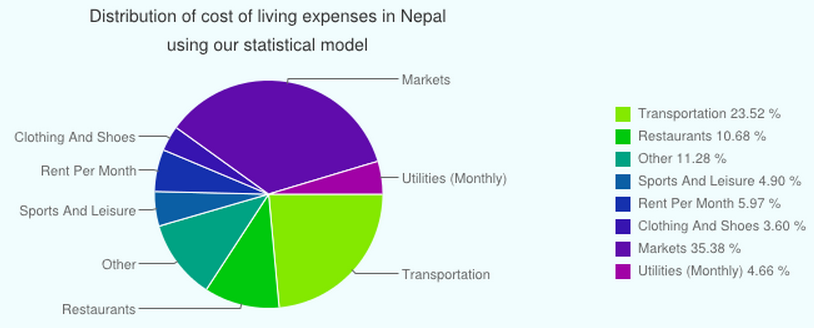 Rice price for Consumer Price Index
One major indices that can be accounted for consumer index in Nepal but has lesser potential to aid on overall CoLI and CPI is the cost of per kg of white rice. This graph clearly shows that rice is the cheapest in our region. Perhaps, more economic explanation might be required for rice price and index associated in Nepal. 
See the graph!
Pollution Index in Nepal
| | | |
| --- | --- | --- |
| Pollution Index: | | 85.43 |
| Pollution Exp Scale: | | 152.2 |
| Air Pollution | | 76.61 |
| Drinking Water Pollution and Inaccessibility | | 70.69 |
| Dissatisfaction with Garbage Disposal | | 81.03 |
| Dirty and Untidy | | 70.69 |
| Noise and Light Pollution | | 56.03 |
| Water Pollution | | 75.00 |
| Dissatisfaction to Spend Time in the City | | 70.83 |
| Dissatisfaction with Green and Parks in the City | | 61.61 |
Purity and Cleanliness in Nepal
Obviously, the purity and cleanliness rating in Nepal is par less. Here, Higher figure is desired.
| | | |
| --- | --- | --- |
| Air quality | | 23.39 |
| Drinking Water Quality and Accessibility | | 29.31 |
| Garbage Disposal Satisfaction | | 18.97 |
| Clean and Tidy | | 29.31 |
| Quiet and No Problem with Night Lights | | 43.97 |
| Water Quality | | 25.00 |
| Comfortable to Spend Time in the City | | 29.17 |
| Quality of Green and Parks | | 38.39 |
Property Prices in Nepal
Nepal's indicator of income, price and rentals depicts average monthly disposable salary after tax in Nepal is approximately Rs 16,500 while a 3-bedrooms apartment in the city is about Rs 18,000.
| | |
| --- | --- |
| Price to Income Ratio: | 25.86 |
| Mortgage as Percentange of Income: | 299.49% |
| Loan Affordability Index: | 0.33 |
| Price to Rent Ratio – City Centre: | 68.40 |
| Price to Rent Ratio – Outside of Centre: | 37.80 |
| Gross Rental Yield (City Centre): | 1.46% |
| Gross Rental Yield (Outside of Centre): | 2.65% |
Quality of Life Index in Nepal
The quality of life index in Nepal much less than desirous. The pollution index is the highest followed by health care index while purchasing power index of Nepalese citizens is quite low.
QoL Index of Nepal depicts that life is miserable, which is resultant of why Nepal is listed among under developed or least developed economies.
 Purchasing Power Index
23.51
 Safety Index
48.18
 Health Care Index
69.21
 Consumer Price Index
31.57
 Property Price to Income Ratio
25.86
 Traffic Commute Time Index
57.67
 Pollution Index
85.43
ƒ Quality of Life Index:
-13.05
Summary: Cost of Living Index in Nepal
You might be interested to read this funny incomplete article[highlight] What's NOT in Nepal? नेपालमा के छैन?
Note about Cost of Living Index Calculation:
The cost of living indices (CoLI) calculated by Numbeo are relative to New York City (NYC) as the base of each cost of living index ie 100%. They have published motivation and methodology of their CPI computation here.
As for Expatistan, the CoLI attempts to be a measure of how expensive (or cheap) life in a city is. It gets recalculated every day, and puts every city in relation with each other by assigning them a CoLI value, as mentioned here. Expenditure at national prices in national currencies, OCDE.