Facebook has been virally implementing places in almost every possible modules in the site after purchase a location-based social network site Gowalla this week. The check-in feature in Facebook is the one to go virtual after its availability in the mobile version of the social site Facebook including the touch edition of the same. But does this have real effect in Nepalese business?
The new facebook timeline gives its user ability to add-in life events like a dairy, the places module in which gives all your stories about location, where one has lived, how many trips covered. Plus geo-location based photos is what Facebook has been focusing now. Time and again it is asking me "You have been to Pattaya on …. have you taken this photo there?" awesome… it looks like. Since many of the photos are already meta GPS coordinates embedded (not a good word for this for sure), Facebook can automatically determine the place, but asking user to verify is surely a good thing.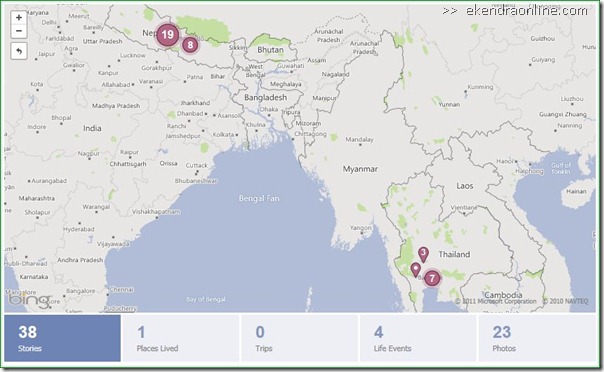 This screenshot from Facebook places show stories on places shared, places lived and other location based life event, followed by the photos taken at various places.
I have been getting time and again that, "You must make your trip to Central Hotel, Bangkok while in there" or similar ones… also it is telling me that this city is in this province, awesome good in some cases.
The Facebook places in Nepal is still unknown to many business houses and owners; let alone giving check-in and recommended users some perks or benefits or even surprises. The businesses should learn that one check-in into their service/product (for an example) is a word of mouth advertisement to their potential customers.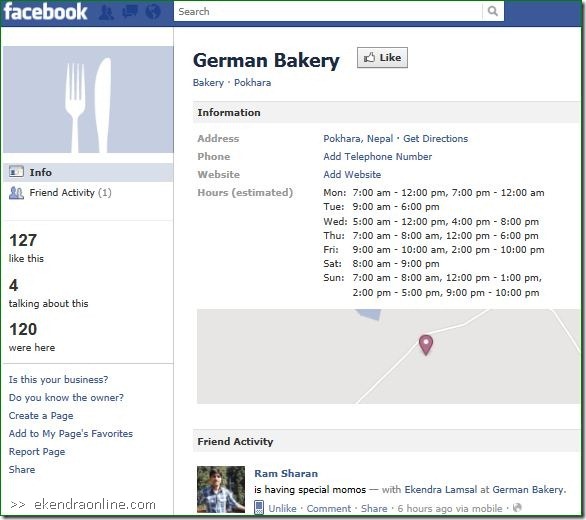 German Bakery, a famous restaurant in Pokhara, for an example is featured in Facebook, even there are estimated hours of opening added to the page by some Facebook intelligence platform. There can go a whole lot of social commerce based on this.
More about Facebook Location

While geo-location is not still accurate in Nepal, we can share things in social networks pretty much satisfactorily. Facebook location is all about sharing where you are, what you have been doing, and virtually anything possible with location. Facebook is learning more about Nepalese location and places based on intelligent user-agents and tracking all those places – which is good; this is in focus since 1.3 million Nepalese are already in Facebook (as of today Dec 5th, 2011).
Social networking trivial: Are you addicted to social network? Here's how to know.