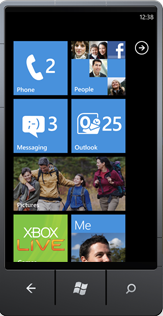 Can't believe I was looking around
Windows Phones
(WP7 rite, as of now, but wish WP8 comes soon) in Samsung, Nokia, LG, HTC, & Sony combined stores today (
June 12th
) in Bangkok stores. I was amazed that the store's salesperson said they sell WP phones only in their main office, after understanding my question on
WP7
with a great difficulty. Is this what WP is being ignored now and then? I just read articles about "US stores ignoring Windows Phones" and I wanted to give try why the world is ignoring Windows Phones.
But I am just in no list, I have gone thru
iPhone – Android
– Windows Phone UI and after thorough comparison metro UI got my attention. I am no more an iPhone crazy guy neither an iPad. 10 reasons why I like Windows Phone simply based on my no-good judgment or biasness are here
Windows lover – oh yes, I'm. Early one of the early adapters of Win OS. Windows 8 already tasted.
Metro UI is the best. Love tiles than icons – I bet tiles are more sexy than iPhone style icons.
Seamless integration with my daily computing behavior. (My computer is my mobile phone). Sadly I don't have a MAC physically (OS X Lion still runs in VMWare sometimes)
Customization – can customize WP in my own way as opposed to in iPhone and many Android phones.


Windows Phone Apps Wall by Microsoft

Apps, I don't care about WhatApps or Angry Bird or whatsoever. Apps are more than sufficient for me. See this Windows Phone apps wall in Microsoft.
Love for Microsoft. Dream place to work ever since I first used purchased computer. No other reasons.
I hate it when people say iPhone is best, Android is the king without even thinking twice. It is okay for their vision, but I don't want people's attention for Windows Phone here – just got ouch, why do people go after whatever the hype is on?
Blue – the color has something to do with it. Love the design for user experienced thing. Maybe I am not judging it properly.
Windows hangs right! (Still MAC hangs when I use in my labs) So does Windows Phone. Solving why Windows hangs and crashes is another field of interest for me.
Maybe the best and the most important reason why I love Windows Phone 7 till today is that I still have not got one.
The biggest thing I hate about Windows, Windows Mobile and Windows Phone is that for me updating is the most terrible task. I had atleast 100 tries made to update my Windows Mobile 6.x but with no success. Whatever, whenever, I still adore Windows Phone – somebody gift me!