Really great time here in Kathmandu. Meeting up with Chetan Bhagat, the author of four blockbuster novels Five Point Someone (2004), One night @ the call center (2005), The 3 mistakes of my life, and 2 States, was organized by Taxila Business School at Nepal Pragya Pratisthan today (July 20, 2010). This was basically A Talk On: MBA in India where speakers gave exciting and lively presentations on the topic including Mr Bhagat himself.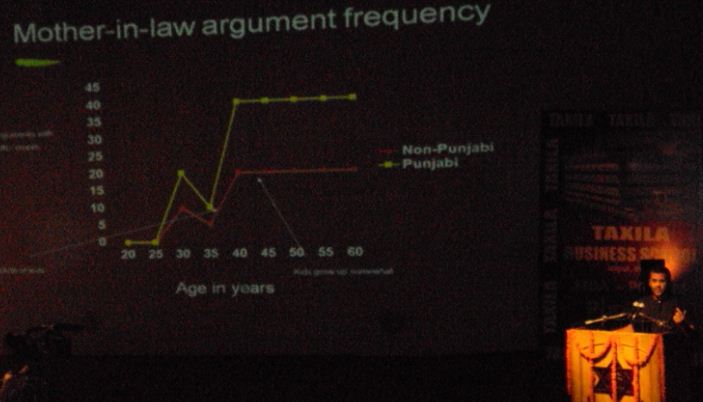 Chetan Bhagat continues to be in the top bestseller lists. In March 2008, the New York Times called him the 'biggest selling English-language novelist in India's history'. 3 Idiot, a movie by Raj Kumar Hirani, is still the instance of Bhagat's brilliant master piece. This IIT/IIM-A graduate is making India and the world (of course including our very own country, Nepal) read like never before.
Chetan tried to rejuvenate the potential of young minds through his story of success. He was not referring to any particular MBA program or college but the truth of pursuing the success. Personally, I was enchanted by the way that graphs play role in our lives. The result of which will be the graphs that sensitize the human life. The pictures throughout this article depicts what Chetan has to say about the MBA, life, literature and the way of living, way of getting success.
Chetan Bhagat's speech in Kathmandu was really really life inspiring, but the speech was quite shorter, however much appreciated.


Photographs – A donkey or a Dog, what do you want to be? 3 lines of wisedom


Taxila Business School is an MBA + PGDBM college ranked 21st across India and graded A++, the highest in the grading system in India. They got 2 months corporate training in every semester, industry integrated course, corporate culture in campus, dual major specialization from 2nd semester, international trainings and placements, business mentorship program and much more.
Chetan Bhahat Source:thehimalayantimes.com
HE IS A YOUTH ICON, A WRITER THAT EVERY YOUTH WHO HAS READ HIM, IDENTIFIES WITH. WRITER CHETAN BHAGAT SAYS BEING REGARDED AS THE VOICE OF THE YOUTH IS THE GREATEST INSPIRATION
His first book Five Point Someone was a sensation -the story of three friends and their life at IIT written in very easy language caught every youngster's attention. Chetan Bhagat had arrived with a bang; a couple of years and after three more books the author has become India's highest selling author.
An IIT student himself, Bhagat wrote his first book to break the stereotypes attached to IIT students that they are all nerds. His work hit the bull's eye and with just one book he established a strong base among the youth. And it is not surprising that his each book focuses on issues related to youth.
"My books talk about what's happening with youth.
When I wrote One Night @ the Call Centre there was this trend of youth working at call centres. Then The Three Mistakes of My Life was about youth and entrepreneurship while my latest one 2 States is about marriage," explained Bhagat.
He shared that many thoughts come to his mind and the thinking process at times happens almost for a year. "I finally settle for the thought that sticks for the longest time and then the pen-to-paper stage begins," he said.
In the Capital to give a special talk on MBA in India organised by Taxila Business School, Bhagat shared that his journey with the first book was not that easy.
"My book got rejected by nine people in two years -you need a lot of perseverance," shared Bhagat who was then an investment banker.
But there was no looking back for the author after his first book got published. He even left his banking career to become a full-time writer. While many people keep a day job to sustain their creative pursuits, what made him take this risky plunge? "Sometimes you feel like you are chosen for something. When I got such a good response continuously, I finally got the courage to do this," explained Bhagat.
And he can have no regrets for today Bhagat is more than just an author.
He is a youth icon. His easy to read simple writing style has a lot to do with this as youngsters can relate to the language. And he has no intention of changing this. "A writer can't change his style; why would I want to change it when it's being well received?" he opined.
For him "being regarded as the voice of the youth" is the biggest inspiration. But he is also well aware of the expectations he carries. "I wrote my first book in innocence, but after it did well I know people would expect a lot and judge me. I knew my works would be ripped apart as Five Point had set the bar high."
So how does he take criticism? "It feels horrible, no one likes to be criticised, but there is nothing you can do about it. You try to justify but still it feels terrible. You just try and not think about it," he replied.
And this is exactly what he prefers to do about the whole controversy surrounding 3 Idiots. When asked about if the controversy became fruitful in his book's sale Bhagat replied, "I don't need controversies to sell my book. My book was huge hit much before the movie released. It was the issue of copyright. I don't want to dig up on that controversy again as it is a thing of the past."
However, he has no problems about his books being made into movies because "films reach a lot of more people".
"I am now more involved with the whole movie making process though," added Bhagat. Bhagat's 5 points for aspiring writers · Practice · Observe · Be original · Be honest · Have a good purpose for writing.