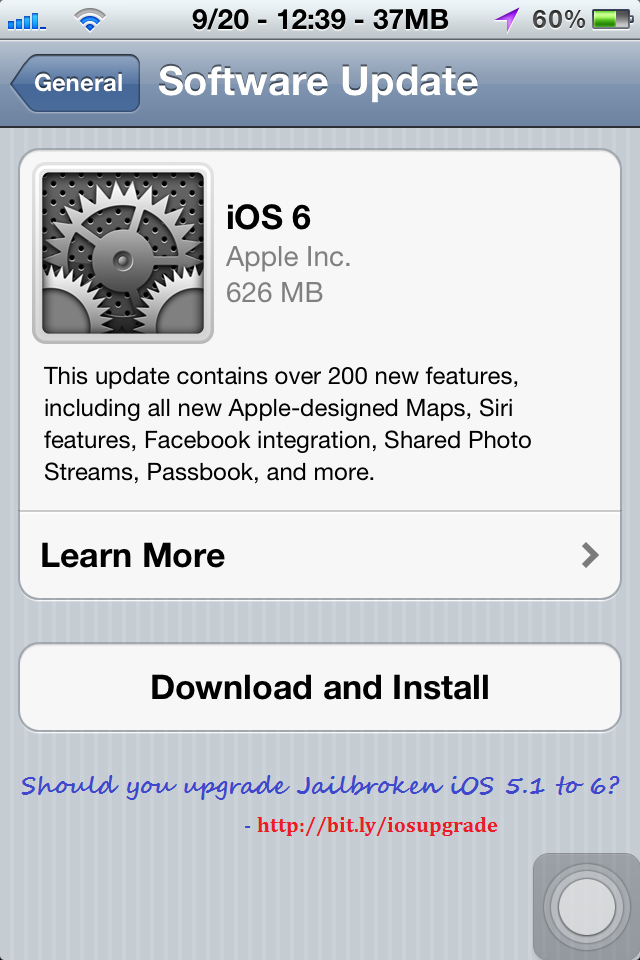 While I enjoyed my last week watching iPhone 5 lies and reading tweets about the greatest innovation from Apple on iPhone 5, I never make-up my mind to upgrade my iPhone 4S oops, better say iOS 5.1.1. For  a couple of days, I went thru series of iOS 6 features (to be precise, why would I be interested in features of iPhone 5 anyway) with any second thought on having a new iPhone 5 or even upgrading the current one to iOS 6. However, finally the day has come, and my B&S also pop out the update notice for iOS 6. A quick Google search on "upgrade iOS 5.1.1 to 6" thinking I would get a good bulk of advices resulted in a frustration because most of the results show how to downgrade iOS 6 to iOS 5.1 instead. I'm giving a try to learn consequences for both the cases – should I upgrade ios 5.1 to 6 ?
Well, now lets follow up how to upgrade my iPhone to iOS 6. Settings > General > Software Update > It says iOS 6 626 MB is available. In Apple's word, this update contains over 200 new features, including all new Apple-designed Maps, Siri features, Facebook integration, Shared Photo Streams, Passbook, and more. A couple of improvements like FaceTime improvements of cellular support, Phone improvements like Do Not Disturb (DND) in iOS 6, Mail improvements like VIP mailbox to quickly access mail from important people & per account signatures, Safari improvements of default iCloud tab integration, App Store and iTunes Store improvements like Preview history are really appealing to those who really understand the usage. However, please be warned that not all features are available in all countries or all areas.
One more question on whether you should upgrade your iPhone 4S to iOS, as analyzed by RedmondPie with a feeling that Apple has killed along time friends (apps) to replace with their new born babies.
If you're an iPhone owner since 2007, the introduction of iOS 6 may represent what seems like the passing of an old friend as Apple cast out the old and brought in the new with the replacement of Google Maps with their own mapping system. A large group of users are willing to embrace change and really have no opinion on the situation, but with Google providing a tried and tested comprehensive mapping experience, some are understandably skeptical about the whole affair.
The doubt can go the other way – should I upgrade my jailbroken iOS 5.1.1 iPhone or iPad to iOS 6? Or what are the deficacies of upgrading iOS 6 from non-jailbroken iPhone or iPad?
Case 1: Should I upgrade my non-jailbroken iPhone 4S or iPad having iOS 5.1  to iOS 6?
Of course, YES. If you don't know what jailbroken iPhone means, never mind. You are a good person, 🙂
Case 2: Should I upgrade my jailbroken iPhone 4S or iPad having iOS 5.1 to iOS 6?
Wait, aren't  you that's why here for? So, you have a jailbroke iPhone, and you might want to jailbreak even after upgrading to iOS 6, don't you? Then,  you must be looking exactly at the same direction as me. But, I am exploring the benefits of upgrading my jailbroken iPhone 4S ( iOS 5.1.1) to iOS 6, both pros and cons instead.
If you believe the features below, you should upgrade right now. If you don't believe or aren't comfortable with, then you shouldn't upgrade to iOS 6 right now (of course, wait sometimes when some real cool hacks come up.) Here is an explanatory cum comparative table from cultofmac – Why A Jailbreaker Should And Shouldn't Update To iOS 6 [Jailbreak] – after reading this comparative table of jailbroken iOS 6 and non jailbroken iOS 6, you should not be asking yourself should I upgrade ios 5.1 to 6?
You should upgrade to iOS 6

You shouldn't upgrade to iOS 6

iOS 6's 200+ new features are super awesome & you can't live without them for a couple of months, maybe you want to experiment whole nights with them

iOS 6 aint really magnificent & your jailbroken
iPhone is just too cool for you

Bored of iOS 5.1.1's untethered jailbreak & want to hop on the Apple kool-aid bandwagon

iOS 6 jailbreaking requires a plenty of time, get prepared for the long wait

It's not that you're bored with jailbreaking, but you can live without your Cydia tweaks for aw hile.

If you really rely on a number
of special jailbreak tweaks every day, then forget iOS
6 right now.
You might be interested in reading this:  Jailbreak iOS 6 or iPhone 5 – Jailbreaks comes even before iPhone 5 is released – http://storyfic.com/apple/jailbreak-ios-6-or-iphone-5/
The complete features of iOS 6
iOS 6 Software Update
This update contains over 200 new features, including the following:
•  Maps
◦  Apple designed vector based maps
◦  Turn-by-turn navigation with spoken directions on  iPhone 5, iPhone 4S, iPad Wi-Fi + Cellular (2nd and 3rd generation)
◦  Real-time traffic information
◦  Flyover for photo-realistic, interactive 3D views of major metro areas on iPhone 5, iPhone 4S, iPad (3rd generation), and iPod touch (5th generation)
◦  Local search results with Yelp photos, ratings, reviews, and available deals
◦  Siri integration for requesting directions and finding places along a route
•  Siri improvements
◦  Sports: scores, player stats, game schedules, team rosters, and league standings for baseball, basketball, football, soccer and hockey
◦  Movies: trailers, showtimes, reviews and facts
◦  Restaurants: reservations, reviews, photos and information
◦  Send a Tweet
◦  Post on Facebook
◦  App launch
◦  Eyes Free in supported automobiles
◦  Local search available in Siri supported countries (availability may be limited during initial rollout)
◦  Additional country and language support for Canada (English and Canadian French), China (Mandarin), Hong Kong (Cantonese), Italy (Italian), Korea (Korean), Mexico (Spanish), Spain (Spanish), Switzerland (Italian, French, German), Taiwan (Mandarin), US (Spanish)
◦  Supported on iPhone 5, iPhone 4S, iPad (3rd generation) and iPod touch (5th generation)
•  Facebook integration
◦  Single sign-on from Settings
◦  Post from Photos, Safari, Maps, App Store, iTunes, Game Center, Notification Center and Siri
◦  Add location and choose audience for any post
◦  View up-to-date Facebook profile photos and contact information in Contacts
◦  View Facebook events and birthdays in Calendar
◦  Like content and see your friends' Likes in App Store and iTunes Store
•  Shared Photo Streams
◦  Share selected photos with the people you choose
◦  Friends can view shared photos in Photos app, iPhoto and Apple TV
◦  Friends can like and make comments on individual photos
•  Passbook
◦  One place for boarding passes, store cards, movie tickets and other passes
◦  Barcode display for boarding flights, buying coffee, getting into movies and other actions
◦  Passes displayed on Lock Screen based on time or location
◦  Passes can be automatically updated
◦  Supported on iPhone and iPod touch
•  FaceTime improvements
◦  FaceTime over cellular support for iPhone 5, iPhone 4S and iPad Wi-Fi + Cellular (3rd generation)
◦  Receive FaceTime calls, sent to your iPhone number, on your iPad and iPod touch
•  Phone improvements
◦  Do Not Disturb to suppress incoming calls and notifications
◦  'Reply with message' option when declining a call
◦  'Remind me later' option based on time or location when declining a call
•  Mail improvements
◦  VIP mailbox to quickly access mail from important people
◦  Flagged email mailbox
◦  Insert photos and videos when composing email
◦  Open password protected Office docs
◦  Pull down to refresh mailboxes
◦  Per account signatures
•  Safari improvements
◦  iCloud tabs to see open pages on all your devices
◦  Offline Reading List
◦  Photo upload support
◦  Full screen landscape view on iPhone and iPod touch
◦  Smart app banners
◦  JavaScript performance improvements
•  App Store and iTunes Store improvements
◦  Updated store design
◦  iTunes Preview history
◦  Complete my season
◦  Complete my album
•  Game Center improvements
◦  Challenge friends to beat high scores and achievements
◦  Post high-scores and achievements to Facebook and Twitter
◦  Friend recommendations based on your Facebook friends
•  Accessibility improvements
◦  Guided Access to limit device to one app or restrict touch input on certain areas of the screen
◦  VoiceOver integration with Maps, AssistiveTouch and Zoom
◦  Support for Made for iPhone Hearing Aids for iPhone 5 and iPhone 4S
•  Improved privacy controls for Contacts, Calendars, Reminders, Photos and data shared over Bluetooth
•  Reminders can be reordered in the Reminders app
•  Custom vibrations for alerts on iPhone
•  Clock app for iPad
•  Clock alarm with song
•  Search all fields in Contacts
•  Automatic movie mode for improved video sound quality
•  Definitions of a selected word for Chinese, French, German and Spanish
•  New keyboard layouts for French, German, Turkish, Catalan, Arabic and Icelandic
•  Keyboard shortcuts shared across devices via iCloud
•  Bluetooth MAP support
•  Global network proxy for HTTP
•  Features for China
◦  Baidu web search
◦  Sina Weibo integration
◦  Share videos to Tudou
◦  Share videos to Youku
◦  Improved text input for handwriting and Pinyin
•  Bug fixes
Some features may not be available for all countries or all areas.  Please visit this website for more details:
<http://www.apple.com/ios/feature-availability>
For information on the security content of this update, please visit this website:
<http://support.apple.com/kb/HT1222>