The mobile sales has surpassed the PC sales in 2011 (see the projected PC and mobile sales thru 2013 below, which has come true) and the market is still going exponential for smartphones and tablets. Looks like era of Desktop PCs and Notebook PCs has been just archived, we know traditional desktop and notebook PCs can never expire tho'.
The savvy IT organization today realizes that this trend is happening and that IT can lead, follow, or become road kill. – IDC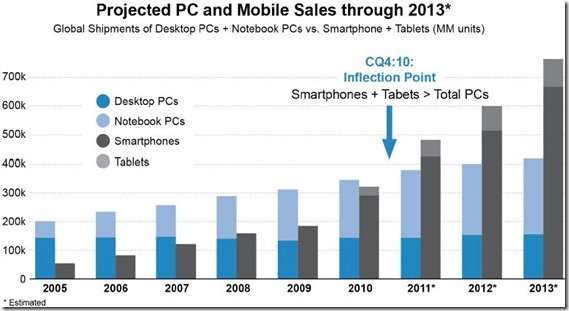 The projected PC and mobile sales thru 2013 shows the global shipment of desktop PCs + Notebook PCs (Notebook PCs include Netbooks) versus Smartphone + Tablets (in MM units), sourced from Katy Huberty, Ehud Gelblum, Morgan Stanley Research, and estimates as of 2/11 (Originally from the Mobile Device Refresh Dell Knowledge Vault).

On a survey asking "Do you own a tablet device?" and "Are you planning to buy a tablet in the next 12 months?" as depicted above; the result is simply enchanting for the handheld market. 67% of 10k respondents want or plan to buy a tablet in within a year. The consumerization of IT gives us the year of Handhelds; super smart phones and tablets. The market is even predictable to go exponential.