हामी मध्ये धेरैलाई नेपाली मै ब्लग लेख्न मन लागेको हुन्छ अचेल, तर बिडम्बना नेपाली भाषाको ईन्टरनेटमा अत्यन्त कम् प्रयोग हुनाले हामी सबैले दु:ख पाइरहेका छौ। किनकी नेपालीमा लेख्नु तेती सजिलो पक्कै छैन। नेपाली font सबै कम्प्युटरमा display नहुने र फन्टको एकरुपता पनि नहुँदा, हामीलाई दु:ख भाएको हुन्छ। तर रोमन बाट नेपाली युनिकोड म परिवर्तन गर्न एकदमै सजिलो छ। जस्तो कि : aba blog nepalimai ==> अब ब्लग नेपाली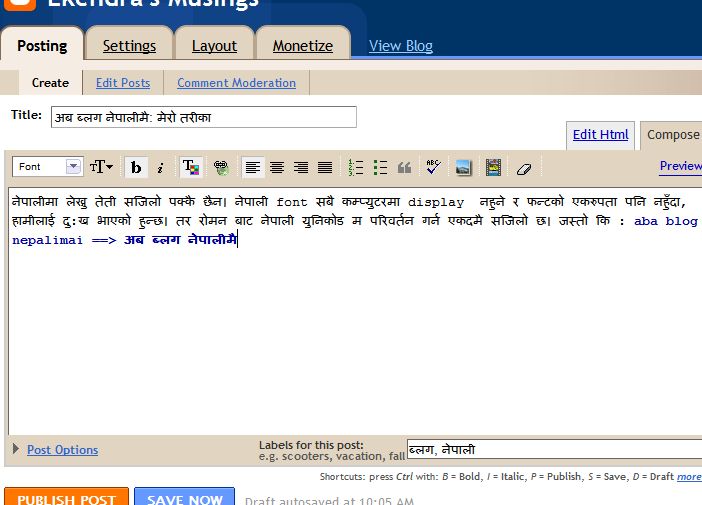 Many of us now-a-days are wanting to create a blog in Nepali, yes, in Nepali Language. In fact, there is not exactly such thing in Nepali when it comes to Nepali Language interface, but we can successfully write blog posts and most, if not all, texts shown to user pages in Nepali. It's rather simple. Get started now.
First of all, you need to sign in to a blogging platform or the host for free blog eg WordPress.com, Blogger.com or similar services or you could host on your own server eg WordPress.org, TypePad.com or similar services. The later one may involve you to purchase a domain (eg ekendraonline.com) and a hosting server space (eg bluehost.com).
Let's assume we want a free Nepali blog:
Sign up or create a free account with wordpress.org or blogger or something like free services.
If you want to display your blog title, blog information/details, even your name and other info, then open sites that allow you to write in Roman to Nepali Unicode (using the same coverter, one is developed by unicodenepali.com)
Assumed that you created a blog in Nepali, time to make your first blog post in Nepali.
Open Create New Post and then in the Roman to Nepali Unicode Converter page (you just opened in previous step) write your title (see the screenshot). Similarly, enter the post contents including pictures and videos.
You can also include categories and tags in Nepali.
Last updated: June 1, 2009
End of
Nepali Language Blog
,
How to write Nepali Blog
,
Nepali Keyboard in Vista
,
Using Nepali Keyboard to write blog in Nepali
,
Nepali Unicode/fonts Blog