[note color="#FFCC00″]Disclosure: This article was scheduled to be published on October 23rd 2011, but since we had to evacuate AIT after the disastrous Thai Flood that ultimately inundated our AIT mother campus; it was kept in draft. And now, I finally decided to public it. AIT, now after flood, has got another big opportunity to grow in huge the campus infrastructure and the environment even better than previous. Hope some points in this article can account for the improvements.[/note]
Based on my experience of AIT, I have prepared 10 modern myths of modern AIT. Most of the points are based on what I did expect before coming, even before being accepted to admission and what actually I found here, what many of the students find here. These are randomly list, not prioritized in any order. 10 Modern Myths of AIT (unexpectables?) is my personal experience and believing, AIT's different (show your love).
1. AIT ain't a WiFi Zone
Get your Connectify ready!
There is no unified wireless connectivity in the AIT Campus. Most of the academic and administrative buildings, classrooms, cafeteria, and few other places have wireless hotspots while all the residential buildings have wired broadband connection (newly upgraded to 300 meg speed). This means one can stream their premier time television show from dorms, but can't even check email while watching a friendly 90 minutes football match in the football field, just an example. AIT needs to work out to make the campus a wireless zone.
2. Exams Sucks: Traditional 3-hour Exams
Archaic exam patterns need refreshing at its earliest before it gets buggy.
Enough done on this part. Up to Bachelor's level we have been giving 3-hours written exam and this sucks greatly we all know (btw, I'm from Nepalese education system which is almost the same in whole of South-Asia.) I don't know much how different departments and faculties take exams, but it seems like almost all final exams are 3-hours written. (The good point is some of the exams are open-book, the worst part is open-book exams are the hardest one.) AIT should make implement a policy to eliminate 3-hours written exams (long-question-answer types) replacing with Viva, MCQs, QnA based presentations and projects, and many more (our professors might know more on this.)
3. Grade & Evaluation of Students and Instructors
Does Grade still matter?
Time has come to make it a myth. While mid-sem and final exams are solely responsible for grading student's performance (again what I see in most of the students), does these 3-hour exams really evaluate students. Where are marks for active-and-interactive participation, presentations, projects? They just count a few percent of the whole pie. Another thing is grade allocation in AIT is obviously instructor based like in most of the high profile universities around the world, but students of some departments and courses easily get an A while from other departments they have to struggle for a B. Maybe AIT has been analyzing on the average grade trend of its students and has a plan to foresee this in a different way, so that students wouldn't be demoralized. (hope I won't be telling my friend from another department, wow I finally scored 3.2 while his average would be 4; presuming our equal intelligence if possible, jk)
4. AIT ain't that small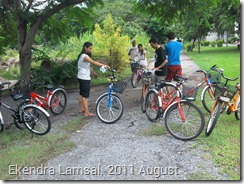 Keep your bike handy!
Bring in your bike. Almost all students (for sure others as well) in AIT have their own bicycle. Many people at first will say that AIT is very small, this is just because of the bike. So, if you are not comfortable riding a cycle no worries you can learn in few days in the campus itself.
5. You're a Genius
You'll be glad to hear from your colleagues and other friends in FB that you are genius (if not brilliant), because talent guys study in AIT.
Lucky, huh. You made it to AIT. Then you must be a genius. I don't know why but many friends (students) in AIT tell that you are a genius. Never dared to find why, in stead believed this and praised that all of us are good and in one of the finest institutes in the world. Positivity matters, right?
6. Best Friend: Laptop & Facebook
Best friend would eventually be your laptop (then facebook, youtube) unless you're occupied already.
Ain't being so ostracized but it is true. People have to check on their calendars to find free time to meet over coffee or a movie but Facebook is always there. Even tho' I consider myself a technocrat, I don't like myself and people glued to their laptop every time and Facebook eventually becoming their best friend (technology has to be the slave!). Hope many people will agree upon this. It would be more enchanting to quote that if you don't have a boyfriend or a girlfriend, facebook is the one. I think AIT's students rank among one of earliest in the lists of using Facebook much among other universities.
7. Mid-nite Food
Food junkies will get along your way! And you'll be the one before graduating.
You will love junk food before sleeping for sure, the reason being you dine according to the Thai time and before you sleep you would already be running hungry. People in AIT generally sleep in the morning (atleast after 12 ?) and rush to 8am classes with rubbing-eyes. It's a great experience in AIT life, really.
8. AIT aint cheap
AIT is international, that's why it is expensive (weird answer one admin staff gave me)
Externally funded students find no worry in daily commodities but self-payers really have hard time to cope up with expensive food and grocery items inside the campus. I am not referring to tuition fees and other academic expenses here. In comparison to other Thai universities (maybe Thai govt. subsidizes to those Thai universities), AIT's cafeteria is really expensive and AIT seems to be doing nothing to control it (or should students raise a voice on this.) And Student Union seems never care on such matters.
9. Not fully technologized or digitized
Occasionally there are select video-conferenced lectures streamed over different universities, tho'.
If you are a technophile and live most of your life digitized, then thinking that AIT is fully technologized is wrong. From classrooms to student's opinion collection form, even tho' the name Asian Institute of Technology implies 'technology' AIT is obviously not a technikon, not industry oriented rather research oriented (I find there is a difference in these two). Maybe different FoS have deployed different technology in their academics, but this is again not unified. There is a lot of space to improve technology aspect in academics, and eLearning (emailing lecture slides aint eLearning what I learnt in ICT lectures)  which doesn't exist, can safely be said. (AIT's Broadcast Channel)
10. Whole lot of formal processes
Like Professors have most of the academic rights, AIT need to decentralize admin tasks as well.
Similar to most of the government offices in our South Asian region, many administrative works in AIT have to pass thru a series of formal processes (lack of technologized ?) – a bird's (student) eye view. Maybe this is because of the organization of AIT, but sometimes we need to initiate from a classroom to advisor to coordinator to vice-dean to dean and blah blah. Even for a simple payment of student assistantship or say a request for a research fund. Finding a time from 8 to 4 including a launch hour to process any work, during the class days is really hectic.
# Preparedness for PhD
You want to go to industry, but it is too late to learn that you are preparing for PhD even before completing your master's degree. Another aspect of AIT, not invisaged before you really become an AIT graduate.
# Amalgamation of Cultural Experiences
If you want to meet people from as much as 40 different countries, join AIT. The cultural heritage in AIT is unique and super rich. This is one of the unique features of AIT.
# Research like nowhere
AIT spends millions and millions of money in international digital libraries for research and academic purposes. There is a huge selection to be made from. This is really unexpectable before you join AIT.
# 1 Name Different Campuses
AIT has satellite campuses in other countries (like in Vietnam, Sri Lanka, and soon in Nepal) and mother campus is in Pathumthani (it's like many of us din't know.)
#These point has been added later and copied from the comment section. Thanks to friends for spreading love of AIT.