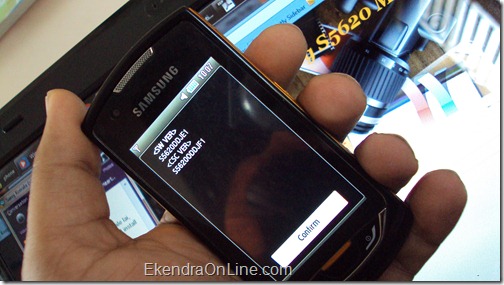 No wonder Samsung Monte aka Samsung s5620 is still a brilliant 3G cum Wi-Fi enabled smart phone, one of the best in 3G. This is also the 3G phone having the longest stand by and talk time duration phone of its time (jut a year ago by now.)
You've been warned! All your data including contacts, messages etc. may be lost during an of these operations! Copy all your necessary data/Contacts/Messages etc. to SIM or make backup on your PC before full reset!
How to Soft Reset Samsung Monte s5620?
Soft Reset is NOT a factory reset or a hard reset. This just clears your mobile phone's settings to default one.
To reset your Samsung Monte, tap on the Menu button>Settings
Scroll down to the "Reset settings" option
Choose the items you want to reset:
Phone profiles
Display and Light
Phone Settings
Or select all the 3 items
Your mobile phone will reboot automatically. On some cases, you will be prompted to enter a password. Based on your Operator it can be:    00000 or 1234 or Refer to the Manual.
Note that, all your data on the memory card will be erased during this operation, so better backup your contacts, photos …etc on PC!!
How to Hard Reset or Factory Reset Samsung Monte s5620?
To force factory reset Samsung Monte smart phone, you got to release Samsung mobile factory restore code for specific mobile phone, here Samsung Monte itself.
First reset by dialing *#*#7780#*#* on your phone. Confirm reset. Then dial *2767*3855# Your phone is as good and as fresh and new; but wait…
In my case:
dialing *#*#77… required a SIM card to be inserted in to the mobile set, which I didn't like. So I dialed *2767*… then it asked me for the master password of the hand set… then it showed admin menu/screen then rebooted after a minute or so.
Problem with above process: go this way then. In order to hard reset (aka factory reset or full reset) your Samsung Monte s5620, enter *2767*3855#
You will be displayed this message upon successful entry of the factory reset code:
Just wait a moment! Phone is being full reset, then phone will be restarted automatically.
How to check SIM LOCK in Samsung Smart Phone?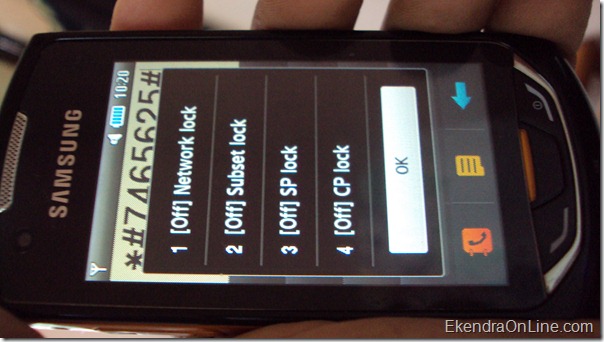 Check your SIM LOCK (not equal to the network lock), you enter the main screen: *#7465625# (need to scroll down the pop-up menu to see the following 11 different kinds of lock in your Samsung phone)
1. Network lock
2. Subset lock
3. SP lock
4. CP lock
5. SIM lock
6. Activa lock
7. Auto Network lock
8. Auto subset lock
9. Auto SP lock
10. Auto CP lock
11. Auto SIM lock
How to upgrade firmware for Samsung Monte s5620?
First you have to check which firmware you have
with your Samsung phone. To do that type *#1234# in your phone..It will give you your current
<SW VER> XXII4 … in my case: S5620DDJE1
<CSE VER> XXII4 … IN MY CASE S5620ODDJF1
Understanding the meaning of firmware code:
Based on http://samsung-s5620.blogspot.com/p/firmware-code.html article:
<SW VER>
S5620DDJE1
S5620 : Model of the set
DD: India – Land Code/Location
J: 2010 – Year Code
E: May – Month Code
1: Firmware revision number
Read the details about upgrade firmware of Samsung Monte s5620 from above website, and take precaution before doing anything. I did not even try to upgrade the firmware, because we can check whether a Samsung Smart Phone's firmware can be upgraded from Samsung Kies software with the mobile set connected to it. Sadly, Samsung kies showed I can not upgrade the firmware for Samsung Monte s5620.
How to install Android in Samsung Monte s5620?
I have found there is a possible way to install Android OS into Samsung's proprietary OS based phones like Monte and Bada OS. But the installation process is not very easy. For Samsung Monte s5620, since the internal memory is not well enough to run after installing Android, I did not installed Android into it.
But many people have successfully installed Android in many Samsung phones including Bada ones. You got to check the performance of those Android installed phones afterwards. Here is a video which shows how to install Android in Samsung Monte s5620.
Samsung Monte s5620 in Android Mod
In this article I tried to cover samsung monte android, samsung monte reset, samsung monte android mod, samsung monte – montedroid mod, samsung monte s5620 android
You might be interested: Upgrading MP3 Player's Firmware