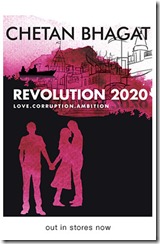 Life's what they call it: It is 5am in Indira Gandhi Int'l airport. Date is October 23rd, Sunday, 2011. And I haven't slept for last 2 days. Life has taken a quick and totally unexpected turning in these few days – while that is an another story in entirety I try to accumulate what are fighting and crying on my phrenal cortex and peripheral muscular blood vessels right now. (Please read the follow up article about quotes and dialogues from R2020 here.)
---
I just bought another book by Chetan Bhagat – Revolution 2020; story about Love, Corruption, and Ambition. I am wandering in a book shop in the lobby of the IGI Airport while waiting 12 hours of transit, even tho' I 'm hunting for 9/11 related books and novels, my mind tells me it is too immature of me now to delve into this subjectification. Hence, the Bhagat. But, I will not be happy for few more days, may be few more weeks now after finishing reading this book – the sole reason being previous books of Bhagat themselves.
Those shared loves and moments and life which would otherwise been different – Bhagat did it in words, God experimented with my life. Thank God, this time Bhagat has not dedicated Revolution 2020 to the LOVED ONES (the story of the words, words and nothing else) – this is all my gesticulations since I have not gone thru the book yet. How the transition of life goes in Bhagat's book sometimes looks so pragmatic for me, while all the other times lives involved seem so filmy that I have to console myself that the reason she left me is her choice at all. Fate is all what determines everything.
Miley Cyrus's 7 things is playing in my playlist now and things have already gone puzzling in the brain. So why did I again start listening these fucking love songs? And why did I purchase yet another Chetan Bhagat book just to nostalgic myself and get depressed again? Maybe there is no reasons for some events in life at all. Maybe it's all written.
I shall write another post after completing this book, once I start reading novels (which I don't do usually) I end up completing in days and hours solely. So, let's hope this Bhagat book Revolution 2020 – Love, Corruption, Ambition would be gifted to the person who has to get it again, and remember the life that went in togetherness in the past. Anyway, memories never die.
(Please read the follow up article about quotes and dialogues from R2020 here.)