KATHMANDU: Nepal Tourism Year (NTY) 2011 is being launched officially on February 26, Friday 2010. The announcement of the tourism year reflects the government's anticipation to bring into at least one million international tourists in Nepal in the year 2011 and spread the benefits of tourism to the people at large. The official launching of NTY 2011 includes rally from five different places — City Hall, Lainchour Scout, Academy Hall, Stadium and Basantpur — and finally gathering at Sainik Manch, Tudikhel.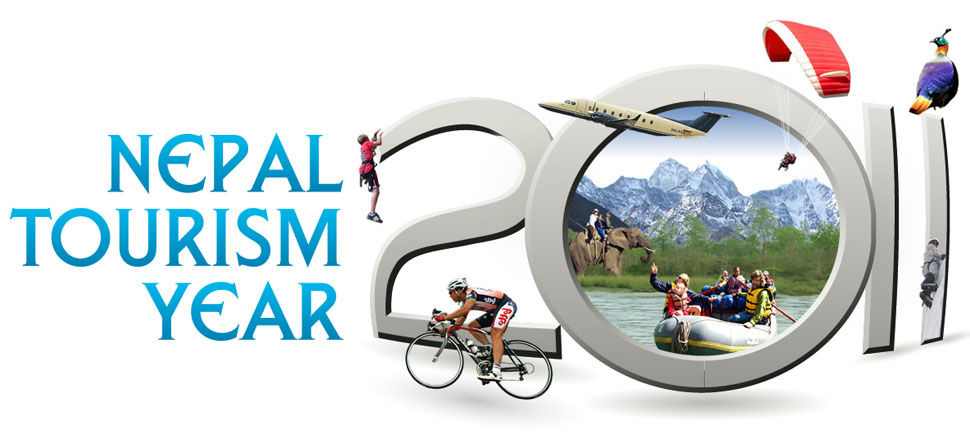 Briefing about the rally, Prachanda Man Shrestha, CEO at Nepal Tourism Board (NTB) said that the rally of different representatives from political parties, tourism entrepreneurs, economic sector, private sector, sports, entertainment, and ethnic community will participate in the rally that will start at 12:30 PM – 1:30 PM and the official ceremony of the NTY 2011 will start at 2:00 PM.
During a press meet organised here today Shrestha also expressed his pleasure over the commitment from 16 different political parties to maintain peace and avoid strike and bandh during the whole year 2011.  According to him, tomorrow remaining parties will also sign the commitment to shun bandh. The Nepal Tourism Year 2011 is a national campaign that can transform the national economy.
The national campaign also indicates the tourism industry eagerness to promote Nepal in the international market. The concepts of Nepal Tourism Year 2011 envisions harnessing opportunities and bring together the commitment of the government, expertise and experiences of the organisations for further tourism development in the country. After the launching in Kathmandu tomorrow similar programmes will be organised from East to West — in Biratnagar, Janakpur, Birgunj, Chitwan, Pokhara, Bhairahawa, and Nepalgunj, according to the NTB.
Time line ( Schedule of Nepal Tourism Year 2011)

• October 23, 2008: Cabinet decided to observe the Nepal Tourism Year 2011 as a national campaign
• March 23, 2009: NTB — the secretariat of Nepal Tourism Year 2011 (NTY 2011) organised an interaction on March 23 with a view to form regional sub-committees for NTY 2011.
• July 19, 2009: To make NTY 2011 a grand success and foster wider economic growth, the government planned a 'one-district, one-destination' identification programme.
• Jan 19, 2009: First meeting of the main organising committee was held. The main organising committee forwarded the proposal for the formation of 12-sub committees.
• Jan 25, 2009: First official promotional launching of NTY 2011 was held.
• Jan 3, 2010: Nepal Tourism Year 2011, secretariat organised a 4 day long briefing on official launching of NTY 2011 that is scheduled for February 26, 2010 at Tudikhel.
• Jan 12, 2010: 3rd meeting of Nepal Tourism Year 2011 main committee organised today discussed on utilisation of budget allotted for the tourism sector.
• Jan 31, 2010: NTY programme implementation committee presented the commitment paper to the former tourism ministers for the commitment from their respective party leader to avoid strike and bands to the tourism sector as a whole.
• Feb 07, 2010: Minister for Tourism and Civil Aviation Sharat Singh Bhandari launched the theme song for Nepal Tourism Year 2011. The theme song is four-and-a- half minutes long with lyrics by Durga Lal Shrestha, music score by Nhyoo Bajracharya and vocals by Ani Choying Dolma.
• Feb 19, 2010: as a part of Nepal Tourism Year 2011 launch programme, Hoteliers and Restaurants hoist national Flag Hoist at their work place.
• Feb 21, 2010: Marking the launch of Nepal Tourism Year (NTY) 2011, a Peace Torch was lighted at Eternal Peace Flame in Lumbini Sacred Garden by Olympian Bimala Rana Magar during a function there.
• Feb 24, 2010: Peace Torch for Nepal Tourism Year 2011 from Lumbini reached Kathmandu
• Feb 26, 2010: NTY-2011 will be officially launched with the theme 'together for tourism" on February 26, 2010 at Army stadium, Tudikhel, in a ceremony organised by NTY-2011 secretariat.
Official website of Nepal Tourism Year 2011: Nepal Tourism Year 2011 celebrating Nepal!!!